Welcome - Join the Team!
Join our active custom-built discord server to access our exclusive content such as trade alerts from heavily-vetted analysts, regularly updated fundamental analysis breaking down all the pollution of news and data to stay on the right side of the market, and a community of traders sharing trade ideas and analysis.


The financial markets are affected by fundamental factors that affect the market; being up-to-date with this recent information will help improve traders' chances of staying on the right side of the market rather than getting caught off-guard.
This will help you if you are:
✳️

Wanting to stay updated with

market-movers
✳️

A successful trader

✳️ A losing trader

✳️ Looking for help

✳️ Looking to find out how

experienced

traders approach the market
What You Get:
✅ Market fundamental and technical breakdowns

✅ Weekly market dissections and commentary

✅ Pre-session reports summarising events and data
✅ Access to our analysts trades and ideas
✅ Access to our chatroom
✅ Detailed analysis with every chart sent by our analysts
✅ Daily fundamental reports

understanding key themes, events and bias
You Will:
❇️ Be able to follow along with successful traders

❇️ Find traders with 

trading styles that suit you

❇️ Communicate with traders around the world

❇️ Discuss markets with other traders

❇️ 

Learn from each other and together become better traders
TWB Mission Statement:
🔰 We are devoted to providing a friendly and beneficial atmosphere for traders around the world. We want to bring traders together and grow one big platform for traders to discuss markets.
Please Note:
☑️ We do not encourage members to copy our trade ideas, but instead trade only what they agree with

☑️ Since we are offering access to our private live streams and content, 

we cannot offer refunds

☑️ Pricing has to go up as more members join in supporting the webinars and discord server fully
-----Disclaimer-----
❎ ALL COMMENTS MADE BY TRADINGWITHBART, IT'S EMPLOYEES, REPRESENTATIVES, AND AFFILIATED INDIVIDUALS ARE FOR EDUCATIONAL AND INFORMATIONAL PURPOSES ONLY. TRADINGWITHBART IS NOT FCA REGULATED SO ALL COMMENTS SHOULD NOT BE CONSTRUED AS INVESTMENT ADVICE REGARDING THE PURCHASE OR SALE OF ANY FINANCIAL INSTRUMENT OF ANY KIND. PLEASE CONSULT WITH YOUR FINANCIAL ADVISOR BEFORE MAKING AN INVESTMENT DECISION REGARDING ANY FINANCIAL INSTRUMENTS MENTIONED BY TRADINGWITHBART. BY COMMITTING TO ANY IDEAS SHOWN BY TRADINGWITHBART, YOU ASSUME FULL RESPONSIBILITY FOR YOUR TRADING AND INVESTMENT RESULTS. ALL INFORMATION ON ANY OF THE PLATFORMS UTILISED BY TRADINGWITHBART WAS OBTAINED FROM SOURCES BELIEVED TO BE RELIABLE, BUT WE DO NOT WARRANT ITS COMPLETENESS OR ACCURACY, OR WARRANT ANY RESULTS FROM THE USE OF THE INFORMATION. TRADING OF ANY TYPE INVOLVED VERY HIGH RISK AND MAY NOT BE SUITABLE FOR ALL INVESTORS. TRADINGWITHBART, IT'S EMPLOYEES, REPRESENTATIVES, AFFILIATED INDIVIDUALS OR ANY SUBSIDIARIES ASSUME NO RESPONSIBILITY FOR YOUR TRADING AND INVESTMENT RESULT.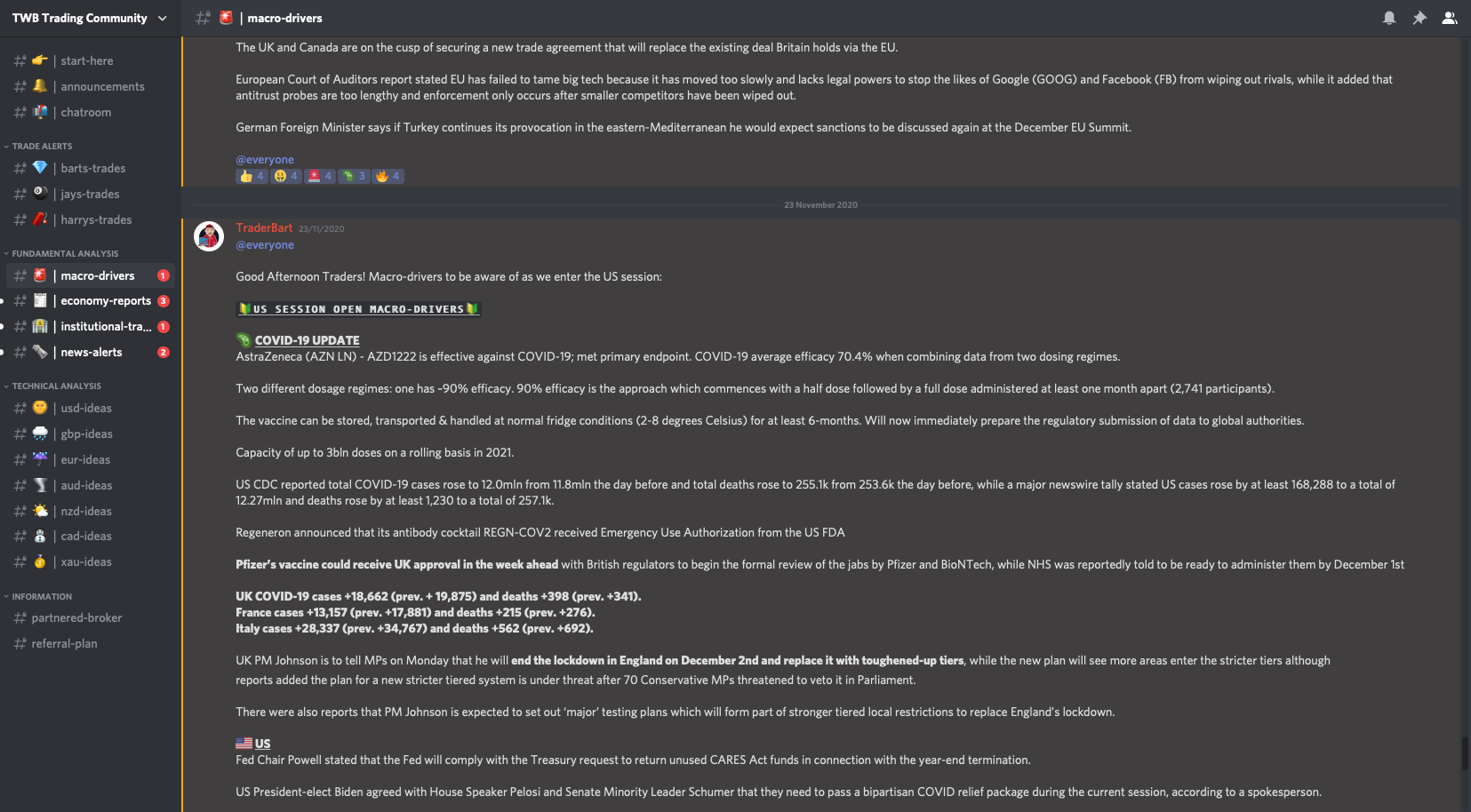 Fundamental Breakdowns & Reports
We send daily fundamental reports to keep clients up to date with recent economical news and information that could affect their own informed trading decisions.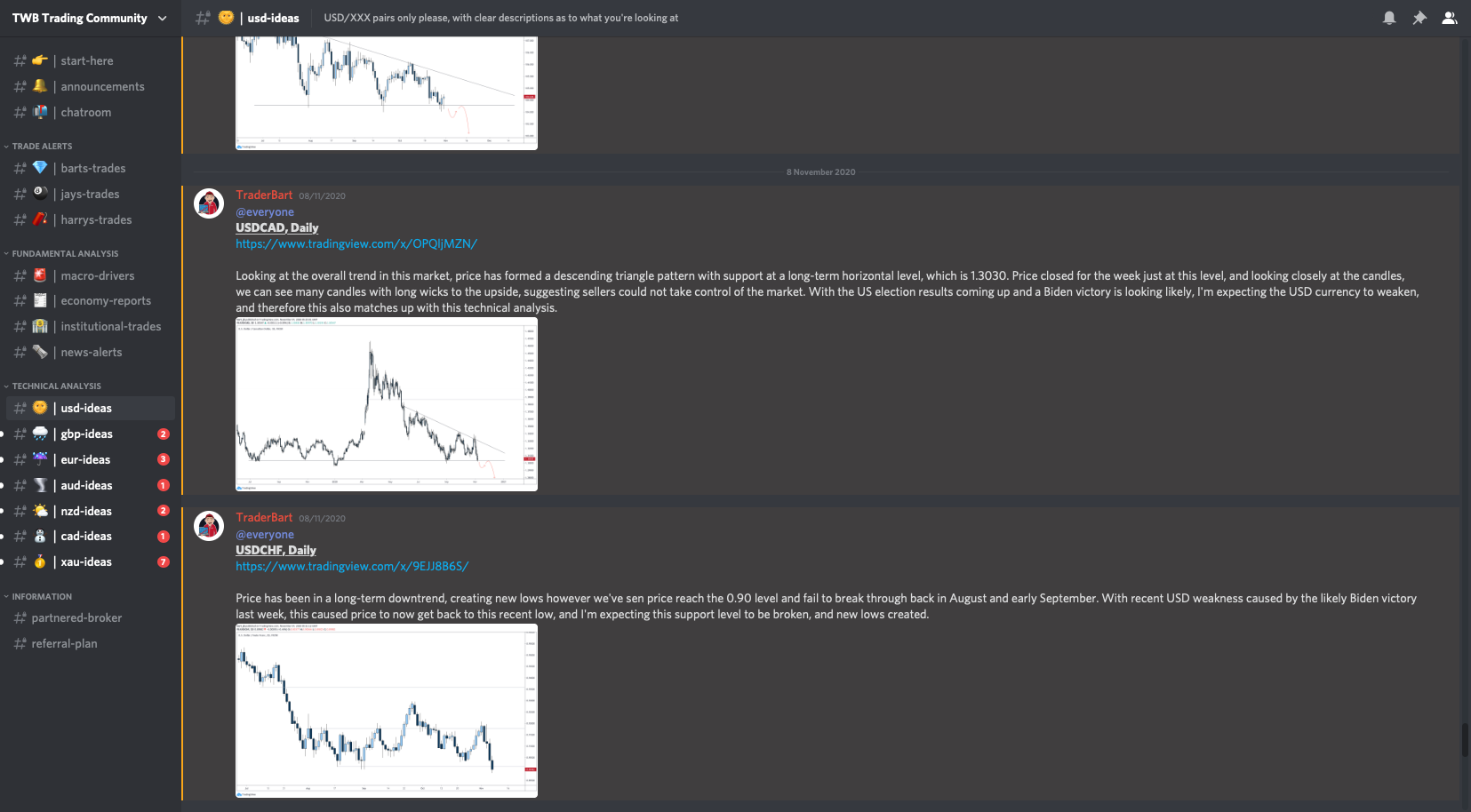 Multiple Technical Analysis Channels
Multiple channels for each currency pair for traders to quickly find ideas about a pair they're interested in, including an explanation of what the trader is seeing.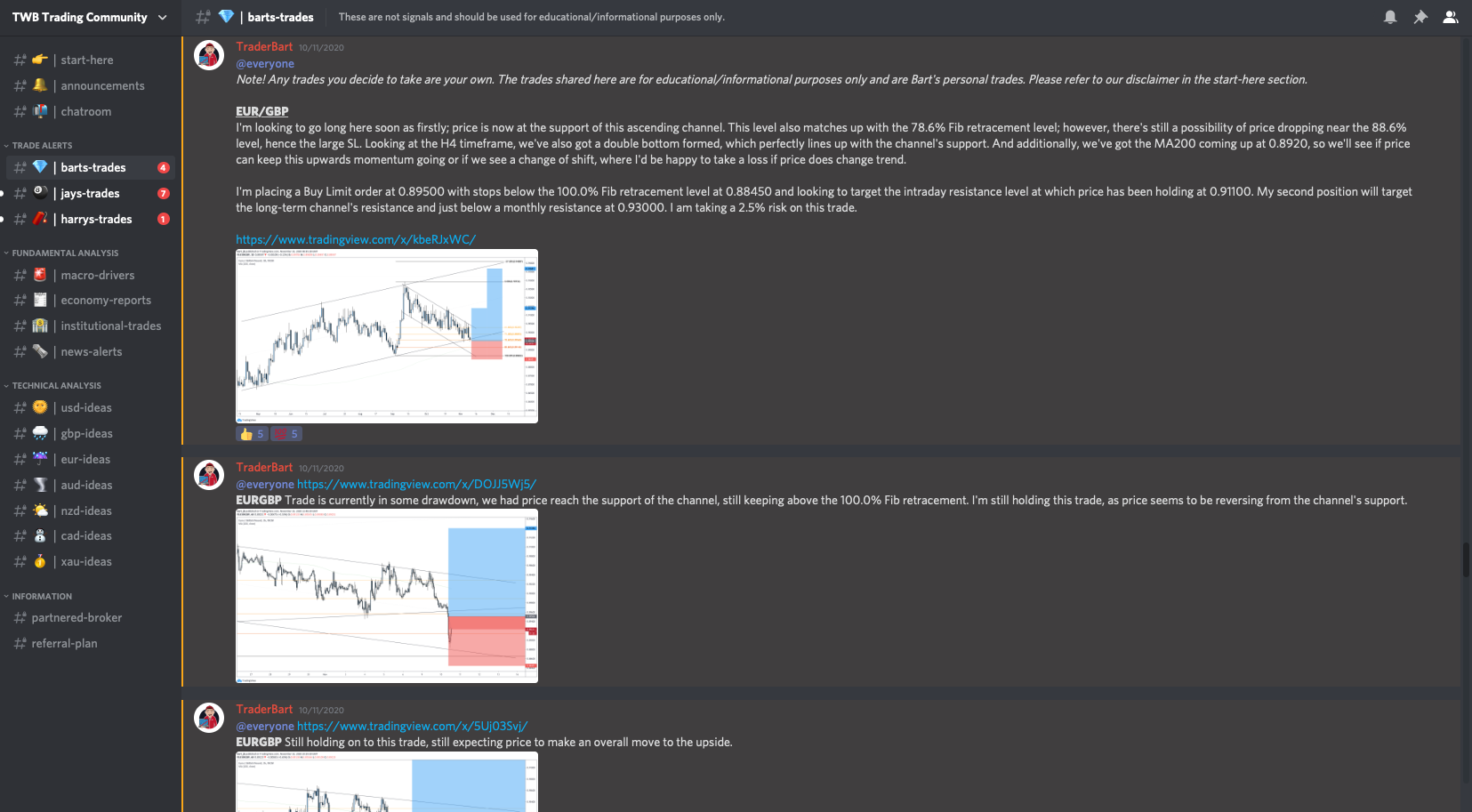 Heavily Explained Trade Alerts
When a new trade alert is sent, we believe it is essential to show why we open the trade and our explanations and reasonings behind it. This way everyone is learning and improving their knowledge.